What is Crown Lengthening?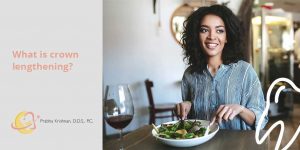 Your smile is important. According to recent studies conducted by the American Academy of Cosmetic Dentistry, 48% of people believe that a good smile leaves the most memorable first impression. It is the first thing many people will notice, so it can help you in a number of first impression scenarios, such as: first dates, job interviews, or applying for a loan. There are a number of different things that can cause the quality of your smile to degrade over time. This is unavoidable. You may have one or more teeth that do not sit at the proper height above the gum line. This can happen when the exposed part of the tooth breaks off at the gum line, or if a crown or filling falls off due to underlying decay. There is a very common procedure to fix crowns that do not sit at the proper height, called dental crown lengthening. Crown lengthening procedures are relatively simple and performed under local anesthetic.
What is crown lengthening?
In order to receive a crown lengthening procedure, you must first visit a periodontist. The periodontist will need to review your medical history and past X-rays to make sure you are a prime candidate for crown lengthening procedures. Once your dental physician has concluded you are a ready to receive dental crown lengthening treatments, you will receive a tooth cleaning. This is done to help ensure there are no complications, such as infection, during the healing process. If the tooth in question needs a crown, your periodontist will supply you with a temporary crown initially. This will protect the tooth until the surgery is completed at a later date. Once the surgery begins, a dental physician makes a series of small incisions around the soft tissue in order to separate the gums away from the teeth. He or she may also remove gum tissue, bone, or both in order to expose more of the tooth.
Why do I need crown lengthening?
There are a few different reasons a patient may seek crown lengthening procedures. One of the most common reasons is restoration of damaged teeth. Periodontal disease can cause severe damage to teeth, but so might trauma and decay. When a tooth becomes broken below the gum line, crown lengthening can be used to be the tooth for restoration. Crown lengthening also has cosmetic applications. Excess gum tissue may cause a tooth to appear shorter than normal. This can make your gums not only appear abnormal, but the excess gum tissue is also more susceptible to periodontal disease. Removal of this extra gum tissue has a two-fold benefit. Lastly, crown lengthening procedures may be a necessary step prior to putting a permanent crown in. This provides more space between the jawbone and dental crown, which helps the new crown from damaging gum tissue once it is set in place.
What is the crown lengthening procedure?
As we mentioned earlier, all crown lengthening procedures are performed under local anesthetic. The duration of the operation depends mostly on how many teeth are involved, and whether or not any bone will have to be removed. Through a series of small incisions in the soft tissue of the gum, the periodontist separates the gums away from the teeth. This provides the surgeon access to the roots and underlying bone. In many cases, removal of only a small amount of tissue will provide the necessary exposure to place a crown. If bone removal becomes necessary, special hand and rotary instruments are used to remove the bone. Once the level of exposure is satisfactory, the wound will be cleaned with sterile water, and stitches will be put in place.
Crown lengthening treatment in Forest Hills, NY
A periodontist is an expert in the field of gum disease treatment. You should schedule regular checkups with a periodontist every 6 months. If you feel you may have any of the symptoms associated with gum disease, you should see a periodontist right away. Schedule an appointment with our dental office in Forest Hills, NY here or call us at 718.878-4878 to schedule an appointment today!