FDA Identifies LANAP® as the Only Periodontal Treatment with True Regeneration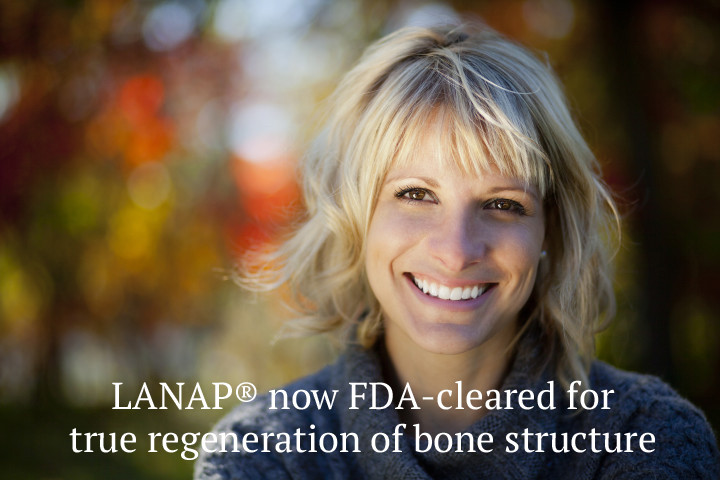 For years, LANAP® has been FDA-cleared as a dental surgical protocol that is recognized as an alternative to traditional osseous surgery.
Now, LANAP® has been cleared as the only periodontal treatment option with "true regeneration of the attachment apparatus (new cementum, new periodontal ligament, and new alveolar bone) on a previously diseased root surface when used specifically in the LANAP® Protocol." (As found in FDA filing 510 K-l51763)
We've supplied our patients with the LANAP® laser gum disease treatment in Forest Hills, NY for quite some time, but these FDA findings declare what we've seen with our own eyes: this advanced laser gum disease treatment not only addresses bacteria and advanced gum disease, but brings about actual regeneration of the tooth's bone structure itself. This regeneration is what makes LANAP® so powerful.
LANAP® doesn't just treat the periodontitis at-hand, but rather positions the patient for better, long-term oral health as a result of the regeneration of the bone structure.
We're excited to share this news with our patients and fellow practitioners.
"The results of the present prospective study compare favorably to clinical data published with various laser protocols and support LANAP therapy as a valid alternative for the treatment of periodontal disease, with the advantages of having a minimally invasive approach."
Concerned About Gum Disease?
Are you concerned you might have gum disease? Has your primary dentist told you that you need to see a periodontal specialist?
Come see us for a free consultation or call us at (718) 878-4878 and learn about your options for minimally invasive, corrective treatment for gum disease.